Siding
RENEW YOUR HOMES EXTERIOR WITH  BEAUTIFUL PREMIUM VINYL SIDING FROM
BEST WINDOW & DOOR CO.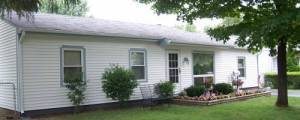 Choose Premium Vinyl Siding from Best Window & Door. You'll discover that all vinyl siding panels are NOT alike. We have a full range of popular colors and complete selection of finishing touch accessories perfect for any new construction or remodeling application.
Beauty
Vinyl provides enduring beauty and design flexibility. Using a variety of siding and soffit styles, colors, accessories and trim, you can update a ranch, add character to a colonial or even recreate a Victorian. Moreover, you can select siding that will be consistent with your home's design and fit into the environment and neighboring homes.
Durability
Vinyl is now the number-one siding material available. And for good reason: Nothing beats vinyl siding, accessories and trim for sheer endurance. Unlike many other siding materials, vinyl is impervious to rain, cold, salt and snow. and vinyl won't rot, peel, dent or show scratches, nor will it ever need painting. A simple soap-and-water rinse once a year is all that's required to remove dirt and maintain the look of freshly painted wood.