Glass Options
LOOK INTO THE
BEST GLASS FOR YOU
In the process of shopping for a window, there are so many details to consider that many people overlook the most important part — the glass.
Like the engine in your car, the glass determines most of a window's performance — and it definitely plays a role in the comfort in your home. PPG Solarban® 60 Solar Control Low-E Glass was engineered to provide year-round comfort. It keeps you cooler in the summer by keeping solar heat out. And it keeps you warmer in winter by keeping furnace heat in.
PPGSOLARBAN®60 Solar Control Low-E Glass is what to look for in a window.
Reduction of Heat Loss in Winter.
SOLARBAN®60 Low-E Glass reduces heat loss to the cold outdoors by dramatically reducing radiant heat transfer and actually reflecting interior heat back into the room.
Reduces Heat Gain in Summer.
The same effect of keeping interior heat inside in the winter helps reduce the flow of hot outside air into the cooler interior in summer.
Lower Utility Bills.
The bottom line is that SOLARBAN®60 Low-E Glass helps reduce the number of heating and cooling Btus needed to keep a house at a comfortable temperature. That means furnace and air-conditioning systems work less, and that can add up to significant energy savings.
Reduction of UV Rays.
SOLARBAN®60 Low-E Glass significantly reduces transmission of the sun's damaging ultraviolet rays, one of the leading causes of premature fading and degradation of fabrics, upholstery and carpeting.
Minimized Condensation.
Since SOLARBAN®60 Low-E Glass helps keep the inside glass surface temperature warmer, homeowners can enjoy a more comfortable, higher humidity level with greatly reduced condensation and fogging.
Click Here for more details.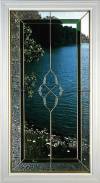 Kenyon's Stained Glass Factory focuses on only one product: insulated stained glass for the window and door industry.
Kenyon's on-staff designers assist in the daily production of CAD drawings and are happy to help with special requests. Their staff designs products that not only look good, but that are engineered to work with our window system.
Insist on consistent quality!
Stained Glass Factory employees are skilled professionals experienced in the insulated stained glass industry. Before being packaged for shipment each unit passes through five inspection stations being checked and rechecked for quality.
To view stained glass patterns visit:
www.kenyonglass.com